The Happiest Car On Earth
---
We know it's economical to drive to our destination on a family vacation, but it's not always an enjoyable adventure. Cathy Droz talks about her family's road trip to Disneyland and how the new GMC Denali helped make her car ride relaxing, comfortable and fun.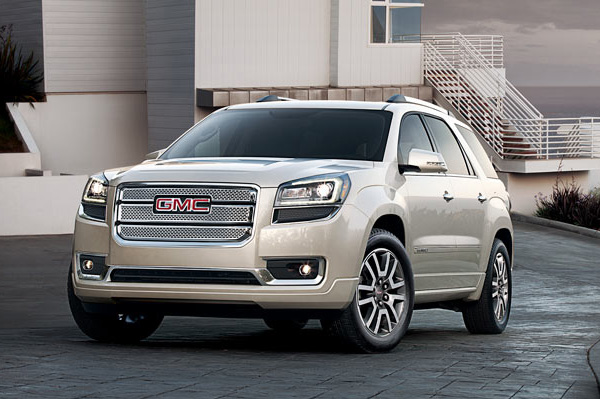 Planning a road trip and vacation for a family of four adults, plus two children still in car seats, can be an ambitious undertaking. Let's just say I had no idea how six hours with two children under 3, a son- in-law who texts and checks Facebook every few minutes, a husband who loudly questions every other driver's lane departure decision and a pregnant daughter going hormonal every half-hour … could be so much fun.
The road trips I experienced while growing up were simple. Mom and Dad threw my brother and me in the back seat of their sedan (no seatbelts then), along with a packed cooler, a set of colored pencils and scrap paper. We would drive five to six hours and play games like name the car, password, ad libs, as well as listen to the radio, and only stopped to relieve ourselves in a bottle. Getting to our destination in a timely manner was the plan; less time in the hot car was the goal.
Well, here we are in 2013, and despite the price of gas, road trips are still great ways to travel with a large family to see the country. We decided to visit Mickey and Minnie Mouse at their place in California, and spend time and money within the Magic Kingdom. I was very lucky to be test-driving the perfect SUV that week, the 2013 GMC Denali. In packing this beautiful vehicle, we found the luggage easy to store, along with the pillows, pack-and-play, stroller, cooler and diapers. It was pretty much like driving your "family room" to your destination.
The Denali seats seven adults comfortably, and I mean comfortably; none of this knees- to- the- side stuff like other third-row-seating SUVs. The captain's chairs in the second row are awesome and spacious, as the 3-year old in her child safety seat noticed when she couldn't reach and grasp her sister's arm. Between these chairs is a large spot for a cooler or two diaper bags, and the second captain's chair had the mother-to-be sighing in delight when she sank into the seat. I sat in the third row with the 18-month-old in her car seat. Again, plenty of room: very comfortable and cup holders like crazy. We stopped for our road trip snacks, filled up the tank, inserted a movie for the children and we started our trip.
We made several stops for the recently potty-trained Sofia and the second-trimester daughter Julia. We changed Gabby in the cargo area, stretched our legs and gladly got back in the car. Even though we made a ton of stops along the way, I didn't mind. I just loved getting in and out of the second row because of the smart slide seating (slide and fold).

Disneyland was wonderful, and our other excursions were always an adventure. No matter where we were parked or sought valet, it was easy to get everyone in and out.
We hated to see the week end, but it was time for all of us to get back to reality. On our last day, as everyone piled in the Denali, it didn't take long for the passengers in this tired family to close their eyes and fall asleep. My husband listened to his oldies station and I slipped my favorite movie into the DVD player. I cuddled my cup of coffee in my hands, turned on my iPad to catch up on the news and realized not only did we visit the happiest place on earth, I was sitting in one of the happiest SUVs on Earth.
Here is what stands out in the GMC AWD Arcadia Denali for this family hauler:
Cargo space: 116.1 cubic feet of total cargo when all seats folded down

Rearview camera; rear parking sensors

Tri-zone climate control and sunroof

"Heads-up" display; USB port

Leather upholstery and heated front seats

Navigation and IntelliLink; satellite radio

Rear DVD entertainment system; six-speaker audio system

3.6 liter V6 engine; all-wheel drive ( AWD) and ABS brakes

Estimated gas mileage 17.24 mpg city

Tows up to 5,200 pounds

Air bags: driver, side, side head, passenger, rear head

Child safety locks

Price: $34,000 to $54,000