50 years of Barrett-Jackson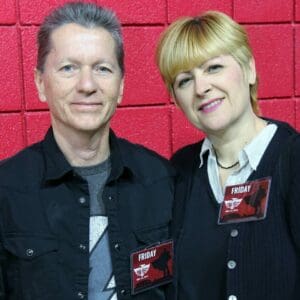 By Arizona Consortium for the Arts
Photography by James and Elena Thornton
Barrett-Jackson celebrated 50 years of car auctions. The auction was held January 22 – January 30, 2022 at the Westworld of Scottsdale. The cars and collectors have gone home, but the memories remain of the most unprecedented pace, prices and enthusiasm during the week.
Craig Jackson and Scottsdale Mayor, David D. Ortega
Photo: James and Elena Thornton
Scottsdale Mayor David D. Ortega has proclaimed the entire month of January 2022 as "Barrett-Jackson Collector Car Auction Month" and presented Craig Jackson with the certificate in recognition of the auction company's half-century-long commitment to the community.
Daily auction sales records were shattered, $203.2 Million in total sales and also many charities benefited with nearly $9 million raised.
Photo: James and Elena Thornton
"We're continuing our legacy of giving back to our communities with many incredible charity vehicles crossing the block in Scottsdale," said Craig Jackson, chairman and CEO of Barrett-Jackson. Steve Davis, president of Barrett-Jackson stated: "From supporting life-saving medical research and higher education opportunities for our youth, to supporting our military veterans and their families, we aren't just raising money, we're creating hope, improving lives and lifting spirits. I couldn't be more honored to be connected to the heart and soul of this community."
Aaron Shelby and Steve Davis
Photo: James and Elena Thornton
Aaron Shelby, Carroll Shelby's Grandson stated: "Barrett-Jackson is a great supporter of many charities. This year the Carroll Shelby Foundation and JDRF were fortunate to have an auction slot to sell the VIN #1 2022 Shelby GT500KR.  The support provided by Steve Davis and Craig Jackson is second to none. They work tirelessly to make sure all charities see success!"
Aaron Shelby
Photo: James and Elena Thornton
Aaron Shelby added:  "Barrett-Jackson represents the first big industry event of the calendar year.  Partnerships and friendships get formed here. Seth Burgett with Gateway Bronco and the Carroll Shelby Foundation share a focus in wanting to provide automotive technical education to the next generation of automotive enthusiasts.  They both support scholarships and training to allow more of today's younger generation to succeed in this line of work."
Kash Singh and Brandi Merrill Kozlovsky
Photo: James and Elena Thornton
Brandi Merrill Koslovsky of Team Shelby Southern Plains Region – Chapter Director stated:
"Kash Singh of Ford  Motor Company is a Ford Performance Enthusiast Marketing Manager, is one of the people who signed autographs on the signs and the signs will be auctioned in June at a Team Shelby event held in Dallas Texas. All monies will be donated to The Carroll Shelby Foundation." Brandi added: "Last year with the help of the Carroll Shelby Foundation, Shelby American, Team Shelby, and generous donors, The Southern Plains region donated $23,000!"
Carissa Gould, Mama's Dogs, LLC Phoenix, AZ
Photo: James and Elena Thornton
Carissa Gould of Mama's Dogs stated: "This was my 9th year at Barrett-Jackson, and this upcoming May will mark my 10 year anniversary of starting my little boutique catering cart Mama's Dogs. Without a doubt, Barrett-Jackson is one of my favorite events year after year. At Mama's Dogs, it's not about the weenie, it's the whole package. I hope each one of them walks away feeling a little more loved every time they visit my stand. Everything here is done out of love. My heart is filled with joy knowing that I played a special role in their memories made while visiting the show. If you haven't had a chance to visit Barrett-Jackson, put it on your bucket list and while you're at it visit the most infamous weenie stand in the joint – Mama's Dogs! A huge thank you to all of my awesome customers and fans for their continued support over the years!! I love y'all! Thanks for keeping the smile on my face. Xoxo, Mama"
The Live Music Stage
Photo: James and Elena Thornton
Baja Billy stated: "Baja Billy is always up for epic adventures with my Billy's Tequila including sponsoring The Live Music Stage at Barrett Jackson"